Indonesian Halal law 33/2014 shifted Halal certification authority from LPPOM MUI to BPJPH.
SiHalal is the online BPJPH tool for managing Halal Certificates.
As BPJPH is still organising itself, obtaining a BPJPH Halal Certificate is not that easy, especially not for foreign companies. Although BPJPH's SiHalal may be ready for digital Halal certificate registration, it is not yet capable of digitally issuing the Halal certificate itself, making it difficult to obtain the Halal certificate.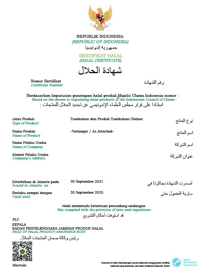 however has the experience needed to also complete this last step, and we obtained the first BPJPH Halal certificate for our client after completing the whole cycle of Halal Certificate Registration, LSP Halal audit, obtaining the MUI Halal Fatwa and receiving the BPJPH Halal Certificate.
Valid for 4 years, this certificate allows hassle free entry of the Indonesian market and its uninterrupted development.