The Halal Food Council of Europe (HFCE) will be organising it's 6th International Halal Food Conference on March 23 - 24, 2012 in Brussels, Belgium.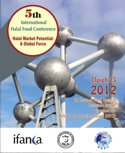 This year's theme is : Halal Market Potential : A Global Force.
The Halal Food Conference is attended by renowned scientists, scholars, industry executives, and halal authorities from around the world.

presented its experience in marketing Halal products world wide.